Bode folks want High Court Patan to restore Paliswan Pukhu as public property
---
---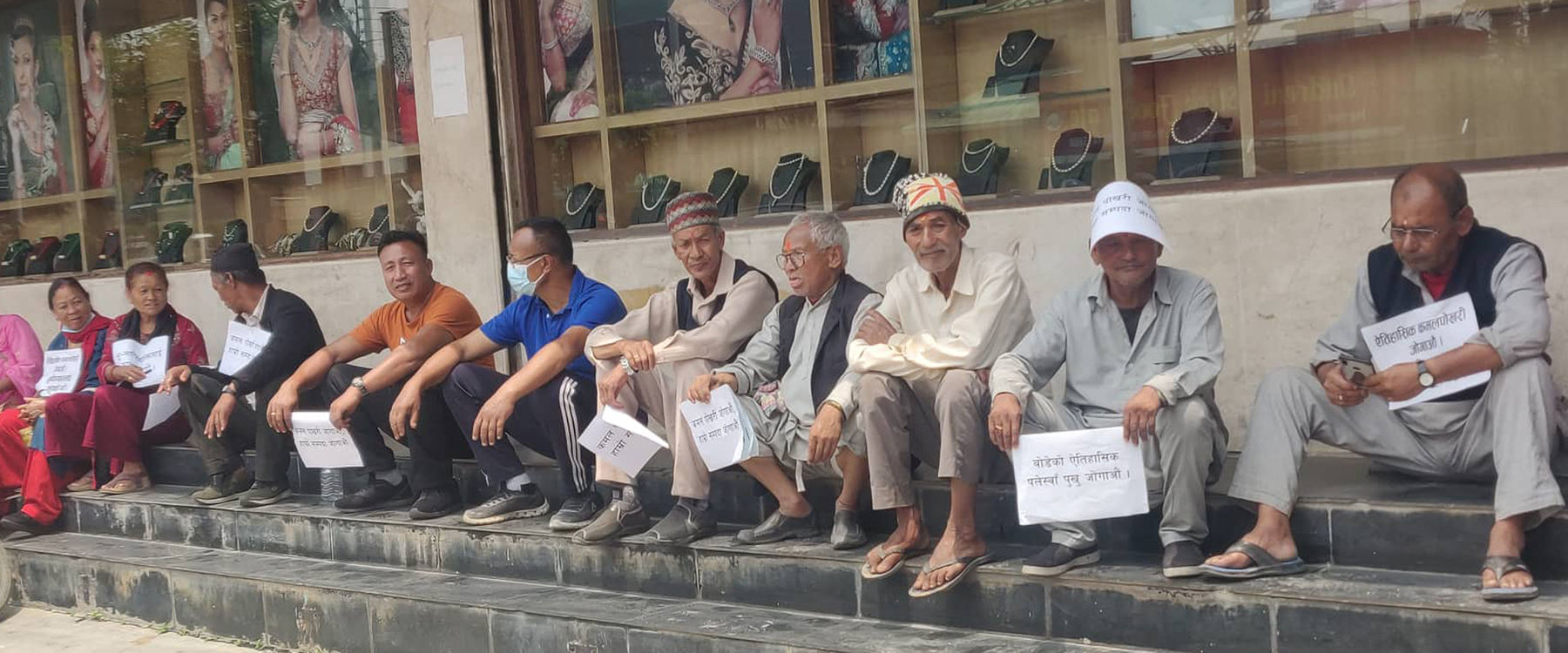 Ramesh Giri
People of Bode-8 in Madhyapur Thimi municipality today staged a sit-in at the High Court Patan demanding the restoration of local historical Kamal Pokhari (pond) as a public entity. The pond which is called Paliswan Pukhu in the Newari language is believed to date back to hundreds of years and is regarded as the natural heritage of religious, historic and cultural importance. It took years for the Bode folks to know that the historic pond had been transferred in the name of private individuals through collusion.
They were aware of the grab of the public property by land mafia just few years ago with the arrival of a bulldozer to invade on it and the incident was a total shock to them, which prompted them to challenge the unlawful act of land mafias in court. Since then they are struggling to reclaim the public ownership over the pond. The mass of protesters include women, men and older people. There were over 100 in a number.
During the course of time, it was revealed that 15 ropanis (one ropani is equivalent to 5,476 square feet) and nine anas (one ana is equivalent to 342.25 square feet) land belonging to the pond based in the then Bode Gaun Panchayat-6 was registered as a private property in the name of Kanchhi Podeni on July 15, 1985 and it was transferred to one Gyalpo Gurung of Manang and residing in Thamel, Kathmandu on February 5, 1995. According to locals, of the total land, 13.9 ropanis was registered in the name of Gyalpo, one ropani in the name of Tenzi Sherpini and one in the name of Karsi Jadhonga Gurung and Gyalpo had later sold it to different individuals.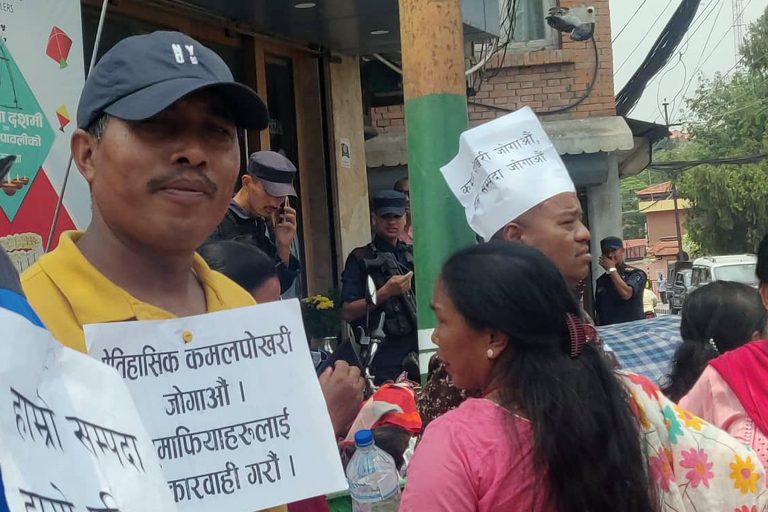 Local Ganeshman Chakradhar took a lead to seek legal remedy on the case and under his convernship, historic Kamal Pokhari (Paliswan Pukhu) Conservation Committee was formed. They filed a writ at the District Court, Bhaktapur on July 3, 2018, seeking the court to rule out the registration of the pond as a private entity. The court recognised the pond as a public property, ordered for its restoration and conservation. And the people who purchased the land moved the high court, Patan against the verdict of district court. The Bode folks visited the high court as they were unofficially reported that the court verdict would come today.
They want the high court to uphold the district court verdict. Former mayor Madan Sundar Shrestha, Ponnd Conservation committee coordinator Chakradhar, ward no 8 chair Ramesh Thapa and people's representatives, municipality staff, former people's representatives and different party representatives joined the sit-in. Former mayor Shrestha said with the verdict of the district court, the local government had allocated Rs 7.5 million to undertake pond-targeted conservation efforts. The pond was already rebuilt with the use of conventional construction materials. Now it features a separate footpath made of the transitional sorts of bricks and two small boats are operational here.
---
---